Are you tired of seeing Planet Fitness ads that self proclaim themselves as the judgement free zone. It seems that they are one of the most judgmental gyms around seeing that they have so many rules. I mean most of their gyms only have dumbbells that go up to 70 pounds because God forbid anybody actually  lifts heavy in their gyms. Don't even get me started on the lunk alarm. How the hell am I not supposed to get my grunt on, I mean I'm not going to stay silent when I'm squatting or deadlifting super heavy weight. Well…super heavy for me at least.
"Grunting=Force"
---
We at Visionary Athletes have decided to pay homage to some of the most hardcore and intense gyms in America. You won't find any lunk alarms here; what you will find are serious athletes who are lifting some serious weight. If you want to take your game to the next level, check out the top 10 most hardcore gyms in America. We evaluated each location based off these criteria:
Equipment-How many power racks, platforms, benches, and chains are available
Staff-What kind of expertise does the staff on hand have?
Members-Who are some of the biggest names in bodybuilding, powerlifting, and CrossFit that go to that gym?
Atmosphere-What kind of music can you find blasting at any time? How does it feel when you walk in?
---
10. Old School Gym-Pataskala, OH
The Old School Gym prides itself in being a real gym and not just another health club. Many of their members have competed in natural bodybuilding, powerlifting, grappling, boxing, and MMA. These guys have some of the sickest workouts at 5am. Both of their owners have years of experience in their respective fields. Cory Gregory is one of the co-owner's and is also one of the co-founder's of MusclePharm. Even though they have MusclePharm headquarters in Denver, CO, Cory still lives and trains here. These guys have a serious track record and train some serious athletes including  Rampage Jackson and Maurice Clarett.
They happen to be one of the few West Side certified gyms in the world and have all the necessary equipment for powerlifting including traditional gym equipment. This includes dumbbells up to 145 pounds, benches, power racks, Monolift Squat rack, Reverse Hyper, bands, boards, chains, and all the implements necessary to train in the West Side Method. Oh yeah, they also have chalk bowls in every room. Don't let the intense atmosphere fool you, these guys are more than happy to have you train with them and help you reach your goals.
---
9. Gold's Gym-Venice, CA
If there is one gym that's on your bucket list of gyms to workout at, the this one might top the list. Gold's Venice is known as the Mecca of bodybuilding and for good reason.
Some people call it the birthplace of bodybuilding, the place where Arnold trained and inspired an entire generation of youth that wanted to get big! He made it cool to have big muscles and portrayed the glamorous lifestyle. You can walk in today and still train among some of the top bodybuilders in the industry.
With the likes of Arnold Schwarzenegger, Franco Columbu, Dave Draper, Frank Zane and many more pioneers in bodybuilding gracing the weight, it's safe to say that it's every bodybuilder's dream to lift here and relive moments from Pumping Iron.
---
8. Jakked Hardcore Gym-Montgomery, IL
If you're fortunate enough to ever set foot in a place like Jakked Hardcore Gym, then you will know you're in a real gym. Their vision is to bring back the "old school gym" and get rid of all the fluff that comes with a fitness spa. Their heaviest dumbbells go up to 265 lbs so no need to worry about them not having heavy weight. They pride themselves in being the best strongman gym in the state of Illinois and host the North American Srongman (NAS) state chairman.
Some of their hardcore equipment includes a full-size loading platform, 16″ power stairs, a wide range of stones, kegs, sandbags, anvil weights, logs, tires, fingers, a car deadlift frame, towing harnesses, indoor turf run, olympic platform, and heavy bags. Jakked Hardcore is considered home to many top-level strongmen today.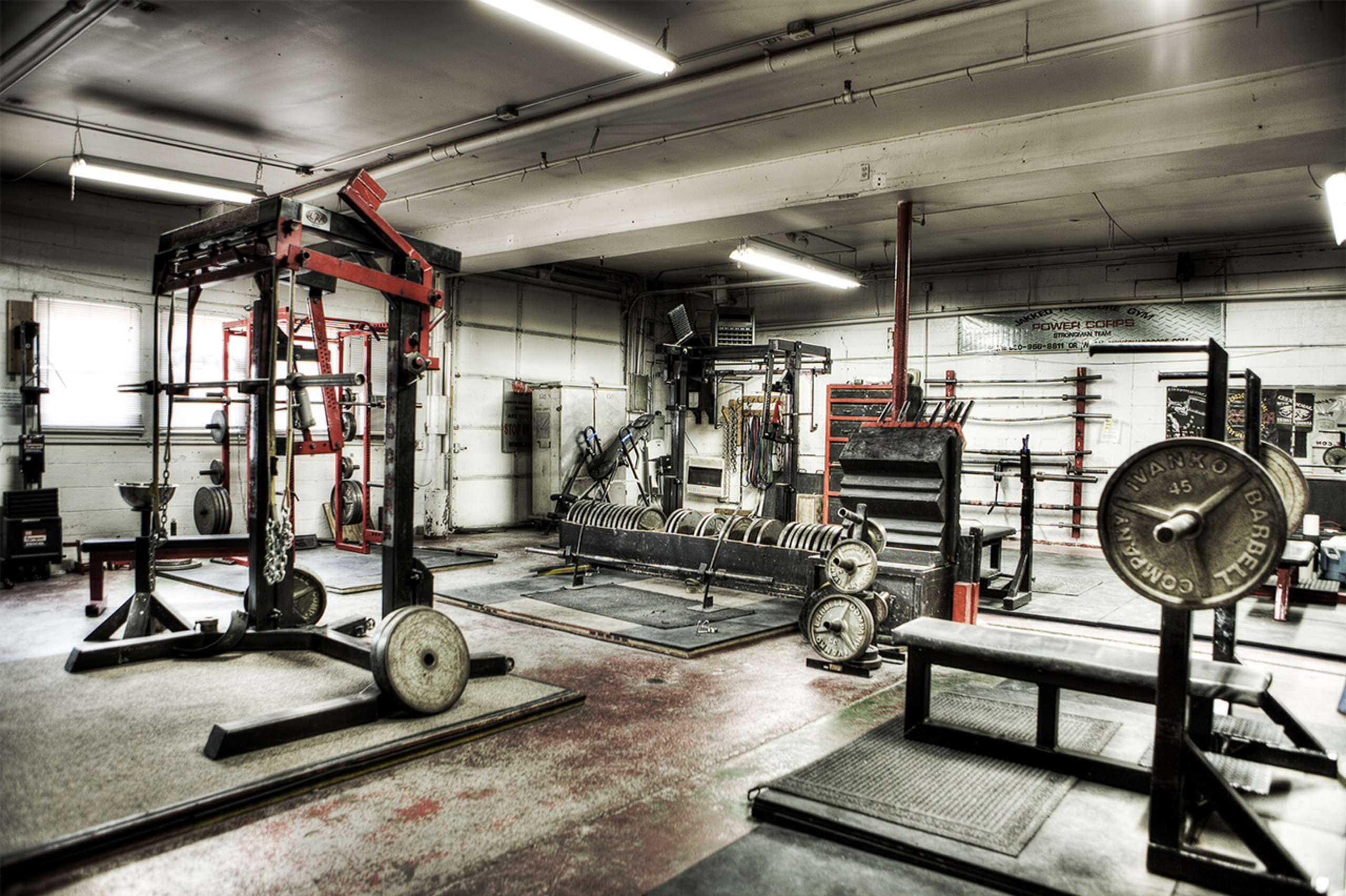 ---
7. Apollon Gym-Edison, NJ
Apollon Gym was established in 1975. This gym is a no-nonsense gym. It has everything you need, and nothing you don't. In fact, most of their trainers are IFBB and NPC athletes.
Lining the entire gym are pictures signed by top-notch IFBB pro's and world-class athletes, past and present, who have come through to train at this place. Ronnie Coleman, Jay Cutler, Kevin Levrone, Markus Ruhl,  and Shannon Sharpe just to name a few. Not to mention Dorian Yates conducts personal training sessions at Apollon when he comes to the United States.
A TV in one corner loops bodybuilding videos all day long including Blood and Guts, Maryland Muscle Machine, and all the 'Battle for the Olympia' videos for extra motivation if you need it.
Don't worry about it being too intimidating though, as this gym is welcoming and willing to help both experienced and novice lifters.
---
6. Montanari Bros. Powerhouse Gym "The Super Gym"-New Haven, CT
Montanari Bros. Powerhouse Gym in New Haven, CT (formerly Gold's Gym New Haven) is one of the last hardcore gyms in Connecticut and is home to IFBB pro Evan Centopani. Three brothers Jerry, Darrin and Richie Montanari own the last hardcore gym in Connecticut. Jerry and Darrin are the Connecticut NPC District Chairpeople. This gym has 3 dumbbell racks that each go all the way up to 200 lbs and over 50,000 lbs of York plates. They are also the home of the NPC Connecticut and the Connecticut state championships. Two more Olympia athletes train here including Jamie Pinder and Jillian Reville.
---
5. Diamond Gym-Maplewood,NJ
There are many gems in bodybuilding, but there is only one Diamond Gym. Far from the sunshine of Muscle Beach and Venice, the Maplewood, New Jersey, iron paradise is gaining a national reputation for producing an astonishing number of national titleholders. This is a hardcore gym. If you want to see a change, whether it's muscle mass or weight loss, this is the gym for you.
Since Diamond Gym first opened, their philosophy was to have a gym that was dedicated to producing good bodybuilders. You can walk in today and hear the clang of iron and loud music pounding throughout the gym.
They stress the importance of not chasing people around the gym and forcing them to do things like refraining from dropping their weights and yelling and screaming. They believe these are things that people need to do sometimes. Bodybuilding is a form of self-expression to them and for which you need freedom and flexibility and not a lot of rules.
Literally hundreds of Diamond's members have qualified for national contests since the gym opened in the mid-'70s. When asked to explain its successful track record, most of Diamond's regulars cite its environment and atmosphere.
---
4. Super Training Gym-Sacramento, CA
Super Training Gym in Sacramento, CA is owned by one of the top powerlifters in the world, Mark Bell. He holds world and American records and has squatted 1,025 lbs, benched 854 lbs, and deadlifted 755 lbs.
Super Training Gym was formed in October 2006 as a REAL Gym. If you want to get bigger, faster and stronger, it isn't going to happen in a commercial gym. Their lifters experience and age varies, but they all have one common goal-a desire to get better each day. Being a privately owned gym, there are no membership dues to those who qualify.
The Super Training Gym was named one of the 30 best gyms in America by Men's Health in March 2008. Super Training is a Certified Westside Barbell Gym.
Not only do they have one of the best gyms in the west coast, but Mark Bell also runs a podcast, Power Magazine, and invented the Sling Shot which aims to increase your bench press and protect your shoulders.
---
3. Bev Francis Powerhouse Gym-Syosset, NY
Bev Francis Powerhouse Gym has become to the east coast what Venice, California is to the west coast . . . the East Coast Mecca. They have been named the #1 Hardcore Gym by FLEX Magazine and the "Top Gym in America" by Muscular Development Magazine.
Since it's beginning in 1986, Bev Francis and Steve Weinberger have built Bev Francis Powerhouse Gym into one of the premier training facilities in the world. Over the years, the now 30,000-square foot facility has grown to include a weight room, cardio center, boxing ring, and an MMA studio run by 3 time world kickboxing champion, Derek Panza.
The gym is the home of former 202 (now 212) Showdown Winner Kevin English, Arnold Figure Champion Zivile Raudoniene, IFBB Pros Joe Palumbo, Evgeny Mishin, and Frank Sepe. It has always been a breeding ground for champions from Dorian Yates to Ronnie Coleman and Jay Cutler. It's the gym of choice for top athletes whenever they train in the Tri-State area.
For those who aren't aware, Bev Francis was the first woman to ever bench over 300 lbs. Born in Australia in 1955, she is a pioneer in woman's bodybuilding and powerlifting. She has broken more than 40 world powerlifting records and broke the Australian shotput record in 1977. Her best lifts are 500 lb squat, 335 lb bench press, and 501 lb deadlift.
---
2. Metroflex Gym-Arlington, TX
Metroflex Gym is not a health spa. They are a serious training facility that caters to competitive bodybuilders. Instead of being yelled at by management for training hard, using chalk, yelling, dropping weight and getting aggressive, you will be encouraged and rewarded at Metroflex. If you don't give 100% here you won't be respected, if you do then you will be rewarded.
Their equipment includes Texas Power bars, Dumbbell's up to 250 pounds, Hatfield squat bar, hex deadlift bars, logs for strongman, stones for strongman, husafell type stones, sleds to drag, yokes to walk with, farmers walk handles, lifting platforms, leg presses that will hold 2,500 pounds, Deadlift bars, and lots of hardcore machines that hold more than the standard machine, like 450 pound lat pull downs.
It's the training ground of over 100 bodybuilding and powerlifting champions, including Branch Warren and Ronnie Coleman. Ronnie Coleman is most notoriously known for his old school approach to bodybuilding saying "Everybody wants to be a bodybuilder, but don't nobody want to lift no heavy ass weight."
---
1. West Side Barbell Club-Columbus,OH
One of the best known gyms around the world for powerlifting is Westside Barbell Club in Columbus, Ohio. Westside Barbell is a private "Invitation Only" elite training facility in Columbus, Ohio that was created by world-renowned power lifter Louie Simmons. Although the gym is best known for the powerlifting accomplishments of its members, athletes in other sports (e.g., MMA, track and field) also train there.
Louie is one of only 5 lifters to total Elite in 5 different powerlifting weight classes. He has been a top 10 lifter for 30 years and for the last 37 years Louie Simmons has totaled Elite in various power-lifting organizations. He is one of two lifters over 50 years of age to squat 920 pounds, bench 600 pounds, and deadlift 722 pounds and total 2100 pounds, and was ranked 4th nationally in 2000 in the open.
Over the many years that Louie has been involved in powerlifting and special strength training, he has gained a vast amount of knowledge on how to produce strength. Through experience and constant, relentless research, his areas of expertise are vast.
Louie's training methodology is backed up by his athlete's results. Currently his gym holds 5 of the top 10 powerlifting totals of all time, the greatest squat and bench co-efficiently of all time and the strongest male and female powerlifter of all time. He has trained 36 men who have benched over 700 pounds, 10 over 800, and 2 over 900 pounds. In addition Louie has 19 athletes who have squatted over 1000 pounds, 6 over 1100 and 2 over 1200.
He also has 21 athletes who deadlift over 800 pounds, 13 who have a total lifting record over 2500 pounds and 7 over 2600 pound total. Westside Barbell is the only gym in the world to have 2 over 2700 pound totals, plus 5 over 2800 pounds and 1 who has the biggest total of all time with 3005lbs. He has also had an athlete produce a box jump of 63.5 inches which is still the current Westside Barbell gym record.
---
Are there any other gyms that you think are worthy to be on this list? Let us know what you think in the comments below!
---